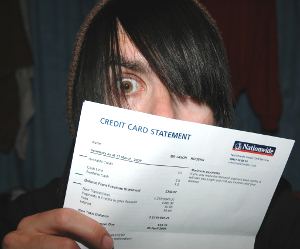 After closing several credit cards accounts because of government tax, I noticed I have a few Ringgit credit balance in the credit card accounts. Though all these credit card accounts had been closed by me several years ago, I still receive credit card statement owing to a few Ringgit credit balance.
Have written several letters to ask them to send me a cheque for the amount and close it permanently but they didn't follow instruction. Maybank credit balance of RM1.95 and they had sent me the statement for the past 5 years!
A friend comment shows my case is not an isolated case but quite common:
"Yes, yes, yes, I also have some RM43 with a bank, written so many letters, but no news, except for monthly statement showing credit balance. Tell me when you get yours back, I swear I will storm to the bank for that 43 ringgit!"
One bank said to use interbank transfer to my bank saving account charging me RM2. But when I wrote email to them to give instruction. They asked me to contact the credit card centre. What the hack! I replied telling them to call me instead and if they want to continue sending statement showing credit balance of RM1.95 or RM15 I don't mind as postage will be more than credit balance anyway and the credit balance is still there! Just imagine how they waste their resource!
It shows how efficient is our credit card and banking system. Talking about merger of bank and finance companies to compete with foreigners; is it really the reason or just to 'dilute' the NPL (non performing loan) outstanding of problem banks and finance companies?
By right, credit card company should send a cheque to customers to settle the outstanding credit balance and close the account. Whether after deduction of outstation cheque commission customer might not get much or anything that is another thing.
I wonder how many trees had fallen to made the statement paper?! And postage wasted to send such credit balance statement!